Hide WhatsApp Media From Gallery
Unlike other multimedia files, WhatsApp Photos and Videos can be private. So, having them available to view at Gallery is not a good idea for everyone. If you are someone who wants to automatically hide WhatsApp photos & videos from Gallery then:
For iPhone users – Disable WhatsApp access to Photos app by navigating to Settings >> Privacy >> Photos and switch off WhatsApp access.
For Android users – Add a period/dot (.) before WhatsApp Images and WhatsApp Videos folder names available inside your Phone's internal and external storage by navigating through a File Manager app. So, rename WhatsApp Images folder name with .WhatsApp Images and WhatsApp Videos folder name with .WhatsApp Videos and no content from these folder will be visible on your phone's gallery.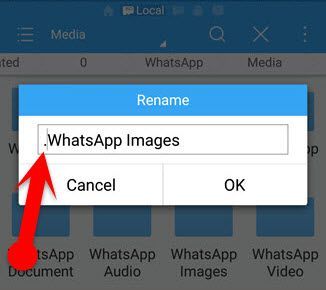 ---
Disclaimer: These were all the WhatsApp Tips, Tricks, Tweaks, Hacks and Secrets that we have found till now. If you know any other interesting trick, please share it in the comments section below. All the WhatsApp Tips and Tricks we are providing through this article are for educational purpose only. Neither we nor WhatsApp (or any other app/service) will be responsible for any inappropriate use of these tricks.
If you're planning to become one of the smartest WhatsApp users, you can achieve that by learning all the tricks provided here in detail.
Whenever you feel like going back to Table of Contents just click on the Table of Contents link provided below each trick. Do share this article if you find it helpful. Thanks