Always Post Guruwap.waphall.com on your facebook, twitter and 2go status! If you love GURUWAP(¤) and enjoy unlimited services here!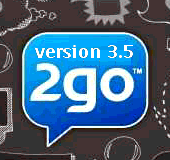 2go Team Recently Released A New 2go Version [version 3.5]. This New Version Makes 2go More Fun And Interesting.
Features:-Enables Update Of 100 Letters Or Characters On Status, Signing Up With The 2go Application.

2go v3.5 By 2go Team.jar

2go v3.5 By GURUWAP.jar

2in1 [Two 2gos v3.5] Picture Embedder By GURUWAP.jar

2go v3.5 Screenshotter And Picture Embedder By GURUWAP.jar

2go v3.5 For Symbians.jad
© 2go Interactive
Online : 1 guest(s)
Today : 3 Guest(s)
Total : 28047 Hits

Created by: GURUWAP™
Copyright © 2012 -
All Rights Reserved
Enugu, NIGERIA