Always Post youngmzee.wapgem.com on your facebook, twitter and 2go status! If you love YOUNGMZEE(¤) and enjoy unlimited services here!
»Unlimited Cool Quotes For Your 2go Posts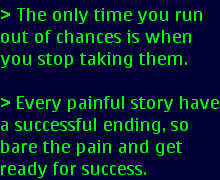 ABOUT
These Applications Contain Unlimited Sweet Cool Quotes Compiled By YOUNGMZEE Admin. These Quotes Can Be Posted On 2go Status, Sent To A Friend As A Message On 2go Or Screenshotted And Uploaded As A Profile Picture On 2go.
Press The Green Button Of Your Phone And Set Your Screenshot Key To -10. To Screenshot, Press Hold The Green Button Then Allow Application Access. You'll Find Your Screenshotted Page In A Folder Named Jie In Your Memory Card.
Click
HERE
To Download The Cool Quotes Application
Online : 1 guest(s)
Today : 1 Guest(s)
Total : 32720 Hits

Created by: YOUNGMZEE™
Copyright © 2012 -
All Rights Reserved
EDO STATE AGENEBODE, NIGERIA